Welcome to the David Eccles School of Business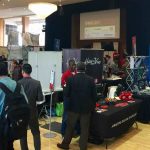 Hundreds of students visited dozens of booths at the recent Career Fair, which allowed students to explore potential companies to work for and begin to network with recruiters.
Career Fairs aren't just about finding a job, but rather about starting the conversation with a company so your resume will be lifted to the top of the list for an internship or career placement, said Dana Sowby, director of the Undergraduate...
continue reading...
Recently, MSF student Zilu Chen attended the Quinnipiac Global Asset Management Education (G.A.M.E.) V Forum in New York City.
The forum provided an international group of college students and faculty with a unique opportunity to interact with industry leaders and learn best practices in investment management.
Throughout the 3-day conference, attendees discussed the global economy, global markets, alternative assets versus equities and corporate governance — including input from the Federal...
continue reading...
In The Spotlight
Shelley Kelson serves as a Program Manager in the Graduate Career Management Center. Shelley works to connect students with companies looking to hire. 
Upcoming Events